Construction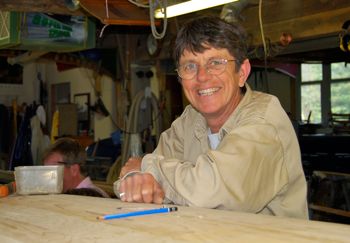 Each new Bearwood canoe is meticulously built using Ontario white cedar ribs, sitka spruce inwales, and full-length western red cedar planking. All wooden parts are varnished before assembly to seal them and to prevent water absorption during the paddling season.
The completed hull is further sealed with two coats of spar varnish. The outer hull covering is #12 canvas which is filled with our own oil-based filler to waterproof and preserve the fabric. Premium marine enamel in your choice of colour finishes the hull and ultraviolet inhibiting spar varnish is applied to all exposed wood.
Black cherry decks, thwarts, outwales, and hand-caned seats are all standard. All tacks, screws, stem bands, and other fasteners are of marine grade brass or bronze. Options include carved yokes of ash or cherry, outwales of sitka or mahogany, two-tone paint, durable shellac bottom, keel, Dacron covering, and sailing rigs.
For those who would like to know, we have a little photo essay on how to get that Bearwood finish.