Who We Are
Pam Wedd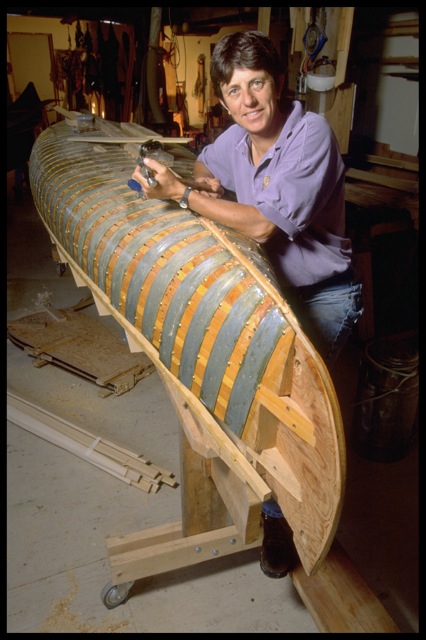 Pam has been in business for twenty one years . After various careers including working as director of the Tapawingo Outdoor Centre in Parry Sound, kayak instructor and guide at White Squall Paddling Centre, and finishing carpenter for a log home builder, Pam Wedd started Bearwood Canoes in 1989. She has had a love of paddling and canoe tripping since she was young and built her first boat, a canvas-covered kayak, while in high school. Combining this love of canoeing and working with wood, Pam is dedicated to building the finest quality wood-canvas canoes available.
"I have always been drawn to canoes. When I went to summer camp I must have driven my counsellors crazy with my constant desire to be out paddling. My best summer was when I finally became head tripping guide and could spend the whole summer on the water!"
From the early days of repairing canoes in a cramped basement, Bearwood Canoes has expanded in to a fully renovated wonderful old post and beam barn. The 30 x 50 foot shop is complete, including a paint room essential for the fine paint finishes, and a large loft for storage of boats awaiting repairs and lumber to be milled for new canoes
Jane Liddell
I have been connected with the Bearwood Canoe Company since its early beginnings. In fact, I can remember trying to fit canoes through the basement window – that was when Pam was first starting out. Her shop was located in the basement of the house that she rented with a friend.
Thankfully, those days are gone and today's canoe shop is nestled on a lovely bend of the Seguin River. Unlike Pam, my background was not summer canoe trips at a girl's camp, but my love of canoes did begin in my teens.
My family had a cottage on beautiful Lake Huron so I have good memories of exploring its limestone shorelines. Once I headed off to University, a canoe trip every May long weekend launched the beginning of summer with a wonderful group of friends who also shared the love of paddling.
My first wooden canoe, a Chestnut Pal, was a gift from my older sister Bev, who passed it on to me when they sold their cottage. I loved that canoe and although it needs a recanvas, it has given me many hours of pleasure. It occupies a spot in the rafters of our old barn, waiting for its turn to be restored.
During the early 80's I flirted with the idea of becoming a carpenter, but once my apprenticeship started I quickly realized it was not going to be my strong suit. However, the skills I gained from that course gave me the confidence to attempt various wood working projects over the years. Bottom line – I can wield a hammer, cut a fairly straight line, and clean, sand and haul any boat that has come through the shop. I can also follow instructions from a good teacher. Having had a career in education for 25 years, I know a good teacher when I encounter them.
That teacher is Pam, so most of my work in the shop is helping prepare the older boats that come in for repair or restoration. It is a very satisfying experience seeing the boats arrive, watch their transformation and then be rewarded with satisfied customers. It is fun to be a little part of that process.
The courses Bearwood offers are another fun part of the work I do. The whole experience of spending 10 days with like-minded people who walk away with new or restored boat (depending on which course they are in) is quite unique and rewarding. I get to be the back-up person, making sure everyone is comfortable, well supplied with snacks and drinks, and chipping in wherever I am needed. We have met so many wonderful people over the years and hopefully will continue to. Sometimes we even have time to all go for a paddle.
Wooden boats are a fascination for many of us in Canada. They require no gas or oil, require our energy to propel them, and allow us to explore places and spaces that give us peace, and the opportunity for fun and contemplation.
I am quite happy to be a part of the Bearwood Canoe Company. I think anytime we can do something we enjoy with a sense of consciousness and a desire to do our best, the outcome is more than just a good product.
Edie Hentcy
Having a father who loved to fish, Edie was introduced to Muskoka as a baby. Her parents began by renting a small cottage in Port Sandfield, then later purchased property there, and built their own home. Growing up on the water, Edie learned how to paddle by trial and error, as no one taught the fancy strokes she would later learn in an Outdoor Recreation class at University. Spending one's childhood either on, in or next to the water, leaves an indelible mark on one's being - at least such was the case with Edie.
She went off to school and had fun acquiring a B.S. in Environmental Studies. However, once that was over, the next step was not clear so she took a two month college-accredited course with Outward Bound and studied the various uses of and definitions of "Wilderness". In addition to required reading and the presentation of papers, she found herself hiking above the tree line in the Rocky Mountains of Colorado during peak wildflower season (stunning), learning to rock climb (and being the only student to make it to the top!), and seeing birds and wildlife unique to the area (she brought binoculars while everyone else brought a camera). That was the first month. The second was spent in Utah, exploring many of the uncountable canyons and discovering the indescribable beauty of the rock of that part of the State.
Upon returning from that growthful adventure, she became employed with The Nature Conservancy where she served as Data Manager/Biologist and later worked for a Land Trust as a Cartographer before realizing it was Muskoka she needed to finally feel "at home" again. So, she happily re-located there in June of 1997.
In 1995, she had restored the very same Canadian Canoe she grew up in, at the WoodenBoat School in Maine. The experience was so rewarding that it whetted her appetite to learn more about the art of canoe building and restoration. So after settling into her new abode, she went in search of a canoe-builder to apprentice with and met Pam Wedd in the fall of 1997.
It was sometime around 1998 that Edie joined Pam initially as an apprentice and gradually evolved into a part of the Bearwood team. At one time or another, Edie put a hand to nearly all of the various tasks that go into restoring or creating a new canoe. However, as with everyone, she excelled as some parts of it more so than others. Namely: the caning of the canoe seats and the painting of the hulls.
Consequently, when Pam taught her to cane canoe seats, she realized her true calling was more clearly with seat-weaving. As a result, she's started up her own chair-caning business. Edie also works as an interior and exterior house painter in the surrounding Muskoka, and Parry Sound area.
Although she no longer works at Bearwood on a weekly basis, she maintains a strong connection with Pam and Jane and enjoys assisting during courses to teach the students to cane or to attend shows to help out, as well as do what's needed whenever she can throughout the year.
Edie's skills and infectious positive attitude have been a very important addition to Bearwood Canoes.